This template is not required to be completed until you reach arrancar status.Items in * are not required
General information------------------------------------------------------------------------------------------------------------
Name: La sombra del Diablo (The Devils shadows)
Representation: Devil
Aspect of Death: Darkness. (Everyone has something dark in them. Hayato believes that that is the reason you need to die; for your sins. His res represents the devil to make the sentence even more real.)
Core Form:
http://bleachnewedge.darkbb.com/hollow-f6/hayato-nakamura-t88.htm
Family: Shadow
Sealed State----------------------------------------------------------------------------------------------------------------------
Appearance: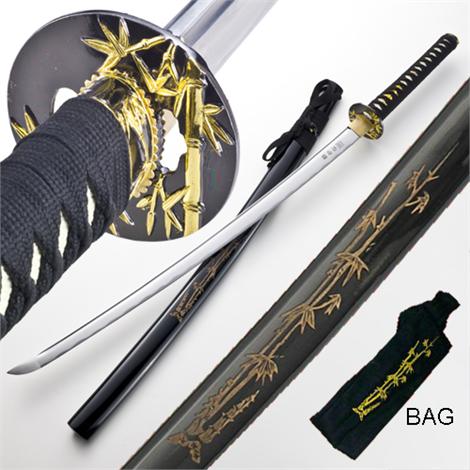 Type: It is a katana with a black hilt and a golden guard. It has the usual length. The sheath is black and has a golden bamboo picture on it.
Resurreccion-Stage 1------------------------------------------------------------------------------------------------------------
Release command: Ligue el cuerpo y el alma, con sus cadenas oscuras hechas de sombras. (Hold together body and soul, with your dark chains made of shadows.)
Appearance:
Hayatos body covered by a red skin. It is strong and can block hits, slashes and cuts from Zanpackutos up to a Captain level shinigami. Hayatos mask is completely reconstructed. But it isn't on his face it is more like a mask you can take off. His Arrancar state jaw can be seen under the mask. His right claw is the same as in his Adjuchas state. The claws are over a metre long and reach to the ground.
Ability: Hayato has the ability to control shadows. He can control his shadow or a shadow he touches or is near on the ground or walls. He can use the Shadows to attack or defend as he likes. Even in his Resurreccion he uses a katana. This katana is basically his first one, only transformed. It has skulls on its hilt and chains come out of them. Although he mainly fights with his hands he uses it in rear cases.
Weakness: Light. From Zanpackutos with the family of light, sun light is alright. And his Resurreccion skin is weak to kido based attack.
*Attacks:
Name: Puño del plame de la sombra (Shadow flame fist)
State: Resurreccion
Description: This is a fighting style Hayato developed. He uses his Reiatsu to make his attacks more powerful. He uses this technique not only with his fists. He uses it on his legs and his katana as well.
Duration and/or cooldown: It has neither, a cooldown or a, duration as Hayato uses this as his main fighting style in his res.
Name: Onda de la sombra (Shadow wave)
State: Resurreccion
Description: Hayato can fire off a wave made of his spiritual pressure. He can use it as he slashes with his katana or punches, slashes or kicks with his "Puño del plame de la sombra" fighting style. The wave is weak if the attack is weak, but Hayato can either attack stronger or charge it by gathering some spiritual pressure in the body part he is going to use to attack.
Duration and/or cooldown: Duration 1 Cooldown 3
Name: Absorción. (Absorption)
State: res.
Description: His spiritual pressure and the tattoo on Hayatos right hand allows him to absorb a Kido blast even from a Captain level Shinigami. This technique can only absorb a Kido up to number 40 (Captain level Shinigami.).
Duration and/or cooldown: Duration 1 Cooldown 5
Name: Tiro rápido. (Quick shot)
State: res.
Description: By absorbing a Shinigamis Kido blast with the "Absorción" technique Hayato can use the spiritual energy to fire off a Cero from a usual Cero to a Gran Rey Cero. The higher the Kidos number the stronger the Cero.
Duration and/or cooldown: Duration 1 Cooldown 7
Name: Sombras de la vida. (Shadows of life)
State: Res.
Description: Absorbing the shadows around him Hayato can heal minor injuries and regenerate lost organs and limbs. The effect depends on the amount of shadows around Hayato. If there are many shadows Hayato can heal a large amount of damage.
Duration and/or cooldown: Duration 1 can be used once per battle
Name: Criaturas de la sombra (Shadow creatures)
State: res.
Description: Creatures like Hollows, rise from the depth of hell. They become Hayatos minions and roam in the shadows. They attack any enemy. They can stretch 10 metres from their origin (the shadow they are made from). Not only on the ground, they can stretch 10 metres in the air as well.
Duration and/or cooldown: Duration 7, Cooldown 10
Resurreccion-Stage 2------------------------------------------------------------------------------------------------------------
*note that this release is only available to those who entered arrancar status as Vasto Lordes and must be trained in order to use it.
Appearance:
Hayatos horns grow bigger. His armour disappears and that is one of the new weaknesses. On his upper body and his forehead a tattoo forms from his Number 1 tattoo on his torso. His eyes become black, on his hands, appear gloves and around his waist is a chain.
Ability: Hayato now can become a shadow himself. He can travel in a shadow on the ground or in the wall. This gives Hayato a large advantage. He can evade hits and attack from them. His enemy should be careful, even if he/she let's his/her guard down for a second, Hayato can be right in his/her shadow. Hayato can only be a certain amount of time a shadow. If the object creating the shadow is destroyed or the shadow destroyed (with light or kido) Hayato reverts to his human state (2nd res).
*Weakness: Has a weaker defence.
*Attacks:
Name: Cadenas de la sombra (Shadow chains)
State: 2nd res.
Description: The shadows around Hayato become alive and hold the enemy without letting him or her or it… move for the next 3 posts. Shadows can be cut, but due to the enormous speed of regeneration the enemy can't escape. The shadows can be destroyed, but only with one thing. If the enemy is smart enough they can easily escape.
Duration and/or cooldown: Duration 5 Cooldown 7
Name: Sepulcro de la sombra (Shadow grave)
State: 2nd res.
Description: Hayatos most, deadliest technique. From shadows the hands of Hades come forth and draw the enemy to hell. The enemy can easily escape if they have the necessary power and Reiryoku. The hands can be destroyed with kido or you can try to cut your way through them. The shadows are pretty hard and they can regenerate fast. So only the Kenpachi rank Captain could do that, if he had a fast shunpo or someone who got him out of there. If concentrated enough Reiatsu in one blow you can cut your way through as well. Nevertheless of the success or fail of the technique Hayato loses a large amount of Reiatsu and goes in his first res. if he is lucky that is.
Duration and/or cooldown: Duration 3, Cooldown: can be used once per battle